October 5th, 2010 by evan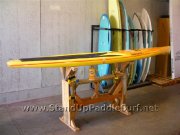 Here's a preview of the Bark 12′6″ race SUP but in the Surftech construction. Joe Bark gave a really thorough overview on this model a while back so I'll try not to repeat everything he said.



(click thumbnail to launch video)
More info taken from Surftech's site:
Specifications
LENGTH: 12′6″ 381 cm
NOSE: 9.5″ 24.13 cm
MID: 29″ 73.66 cm
TAIL: 16.5″ 41.91 cm
THICK: 6.5″ 16.51 cm
VOLUME: 233L
FINS: Futures
TECHNOLOGY: Tuflite

Description
JOE BARK teamed up with surf and paddle industry leader Surftech to produce a line of boards constructed utilizing their unrivaled Tuflite technology– the ultimate in performance and durability. Joe's designs, coupled with Surftech's advanced composite sandwich fabrication, yield boards that are not only light and durable, but are also proven performers.

Joe's 12′6 answer to the needs of Hawaiians Slater trout, Candice Appleby and Aaron Napoleon when they were invited to race the Rainbow Sandals Battle of the Paddle. This specialized competition board has quickly become a favorite of among paddlers for all circumstances training and downwind runs. The displacement entry into a planing hull provides the efficiency needed for sprint paddling in all wind and water conditions.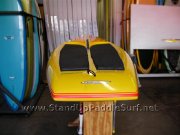 Wide square tail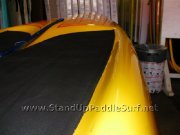 Recessed deck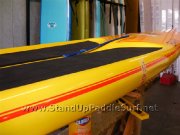 Thick, boxy rails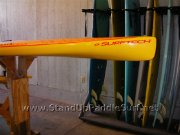 Canoe-style nose
Runs a single fin
Related posts