October 28th, 2009 by evan
I recently visited Joe Bark's SUP and paddleboard factory and he showed me a couple of his new 12′6″ racing stand up paddle boards. These are the same boards that will be produced by Surftech in 2010 and the same ones his team riders raced at Battle of the Paddle 2009.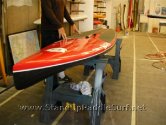 The 12′6″ x 28″ Bark stand up race board
First was the 12′6″ x 28″ race board with a black carbon bottom. It is shaped with a piercing nose and a wide tail to give the board stability. The curves on the board also adds to its stability and speed.
The carbon bottom is fairly flat and although the black finish has a really nice look, it gets super hot (temperature) quickly so Joe suggests a a board bag for the board when not in use. I asked about the convection heat from storing the board in a bag in the sun and he said that the direct heat from the sun is what really does the damage. Either way, keep these out of the sun when not in use.
The tail is a fairly wide squash tail to add stability and help catch swells. Joe gives a pretty in depth overview in the video.
Next was the 12′6″ flatwater stand up racing board. It's also shaped with a piercing nose but with a round bottom and a pin tail. This board was design exclusively for use in glassy, flatter water conditions like in lake Tahoe. They sacrificed some of the stability to gain speed, according to Joe. You definitely wouldn't want to be in the surf on this board.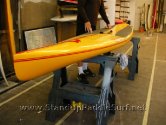 The 12′6″ Bark flatwater stand up race board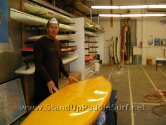 Round bottom with a pintail for good release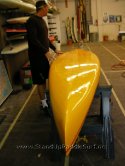 The knife-edged nose
Check out the video:


(click thumbnail to launch video)
Related posts