October 6th, 2010 by davi

Big Island to host the Stand Up World Tour Finals
The Waterman League is proud to announce that the Island of Hawaii, otherwise known as the Big Island, will host the climactic Finals of the Stand Up World Tour for 2010. From the 10th – 19th December, all eyes will be on Honoli'i, on the North East of the Big Island for a fitting conclusion to a spectacular year for the Stand Up World Tour and its athletes. With a Title Race now firmly in place between Hawaii's Kai Lenny and France's Peyo Lizarazu, Honoli'i will provide the perfect setting for the final showdown between these two phenomenal athletes. You can see more on this at www.standupworldtour.com.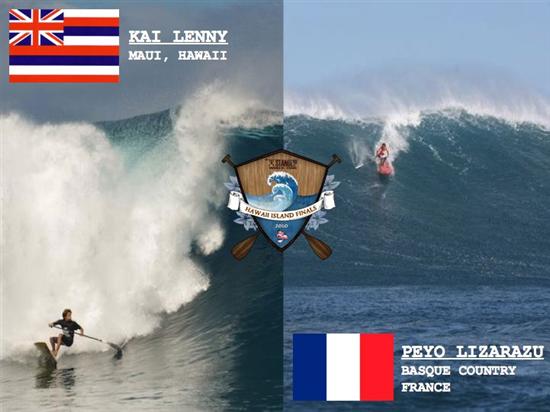 Other athletes in contention
From Hawaiian athletes Robin Johnston, Duane DeSoto and Ekolu Kalama, to Tahitian legend Arsene Harehoe and Event winners Antoine Delpero from France, Dave Muir from Australia and Leco Salazar from Brazil, nothing is said and done until the final buzzer rings at Honoli'i. Also to watch out for are Hawaiians Kekoa Uemura and Aaron Napoleon, who have both had great results in Hawaii and Tahiti, Tahitians Tama Audibert and Guillaume Bourligueux and coming into the fray after an absence in Tahiti and Brazil, South Africa's Chris Bertish. You can also never count out 5th place finisher at Sunset, Hawaii's Bonga Perkins and fellow Hawaiian Ikaika Kalama. Whatever happens, it is all to play for on the Big Island as we come to the end of a spectacular year on Tour. Keep an eye on the www.standupworldtour.com for the latest.
Stand Up World Tour to air on KITV (ABC)
Stand Up World Tour shows from France and Tahiti will air on KITV this Saturday 9th October at 7pm Hawaii Standard Time. Tune in and watch the action from stops 2 and 3 of the Stand Up World Tour. More information can be found at www.standupworldtour.com.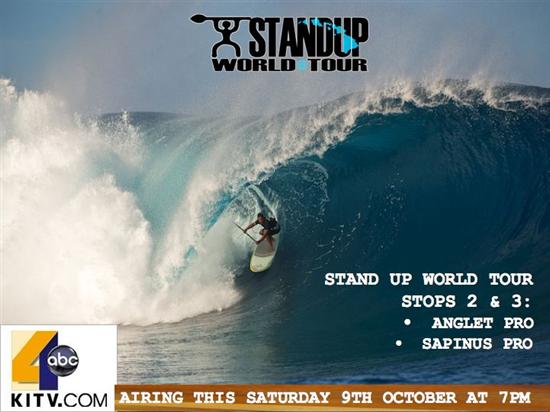 Related posts