October 7th, 2010 by davi

October 6, 2010 (Dana Point, CA) The aloha spirit was shared by all who were in attendance at the 3rd Annual Gerry Lopez Rainbow Sandals Battle of the Paddle in Doheny State Beach last weekend. More than 500 competitors and thousands of spectators packed the beach among the SUP manufacturers' expo tents.
Under sunny skies and a consistent 3′-4′ swell, the 2010 Battle of the Paddle Callifornia was a near perfect weekend for everything stand up paddling. In between races, spectators and competitors alike took advantage of the pristine conditions to try out the latest in SUP board designs from Surftech's vast quiver of demo boards on offer.

The Elite Race featured the 'cream of the crop" of stand up paddling's top athletes from around the globe. Included in this impressive list of contenders were 2010 Battle of the Paddle Hawaii winners, Danny Ching (Redondo Beach) and on the Women's side, Candice Appleby (Honolulu, Hi). Ching finished 3rd in the 2009 Battle of the Paddle California race to Slater Trout and Jamie Mitchell while Candice finished 2nd to Australia's Shakira Westdorp. "I've always wanted to win the Battle of the Paddle" said Appleby. "The last two years I put a lot of pressure on myself to win this race. I think winning in Hawaii really helped me approach the California race with a much more relaxed mindset."
The fun sized swell wreaked havoc on the 160 Elite Competitors as they maneuvered in and out of the surf zone along the 5-mile zig-zag course. With every lap, boards could be seen floating sideways long the face of waves bound for a group of westward paddlers. Bleeding shins and dinged boards were a common sight as the racers exited the water for their laps through the 100 yard sand run.
Appleby fell victim to the mayhem as a wayward board clipped her from behind, knocking her off of her board and forcing her to swim after her board and paddle. Meanwhile, Brandi Baksic (San Clemente, Ca) took advantage of Candice's misfortune and caught up to her as they exited the water on their second lap. "I had a pretty good lead before that happened." said Candice. "Once Brandi caught me, it was a back and forth race the rest of the way." Brandi (who won the 10 mile distance race on Sunday) never let up after catching Candice, forcing Appleby to muster every ounce of energy she had left along with sheer determination to overtake Baksic in the final lap en-route to her second Battle of the Paddle Elite title of the year and her first Battle of the Paddle California title.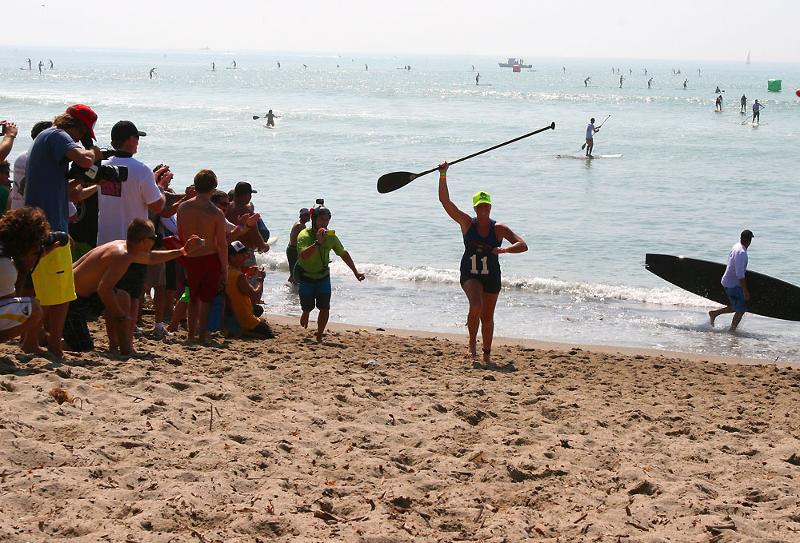 Candice Appleby, 2010 Gerry Lopez Rainbow Sandals Battle of the Paddle Champion
In the Men's Elite race, Australia's Jamie Mitchell (defending champion & 9-time Molokai to Oahu Paddleboard Race winner) fought hard to challenge Battle of the Paddle Hawaii winner, Danny Ching throughout the four lap race. Ching, being the veteran paddler that he's proven himself to be, paddled a smart, technical race making no mistakes and capitalizing on the conditions by riding several waves to increase his lead over Mitchell. In the end it was Ching crossing the finish line in 57:45 and taking home $5,000 with Mitchell just under 2 minutes behind him in second and Slater Trout (Lahaina, Hi) finishing 3rd in 1:00:39.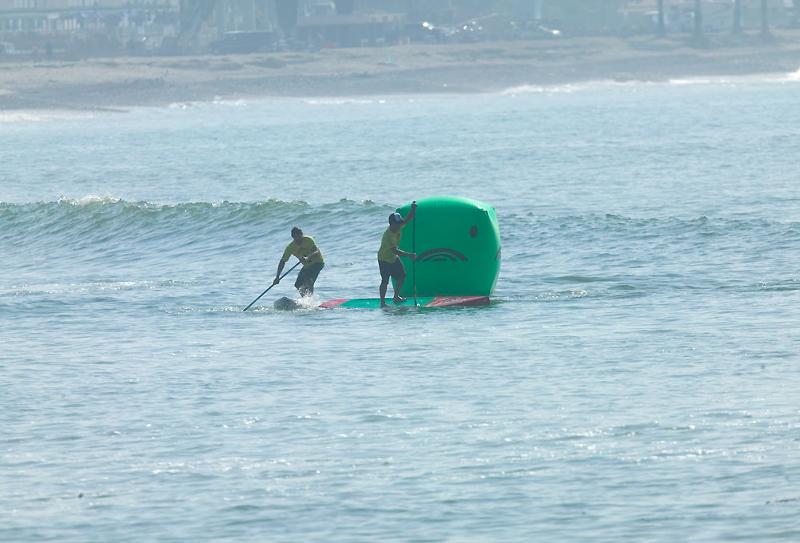 Jamie Mitchell was on the heels of Danny Ching throughout most of the Elite Race
In Sunday's long course race it was Danny Ching once again prevailing over the rest of the field, finishing the 10-mile race in 1:02:19 while paddling an 18′ Unlimited board. Surftech's Jamie Mitchell and Slater Trout opted to compete in the 14′ Class where Mitchell finished atop the division after a head-to-head battle with Tahitian, Georges Cronsteadt and 15 year-old Trout, finishing in 1:09:13 with Cronsteadt & Trout just 1 second behind him. On the Women's side Brandi Baksic won the Women's division in a time of 1:15:25 followed by Rachel Brunton (California), 1:16:30 and Andrea Moller (Haiku, Hi), 1:17:00.
Surftech would like to congratulate all of our athletes on a stellar performance in both the 2010 Hawaii and California Battle of the Paddle events! Well done!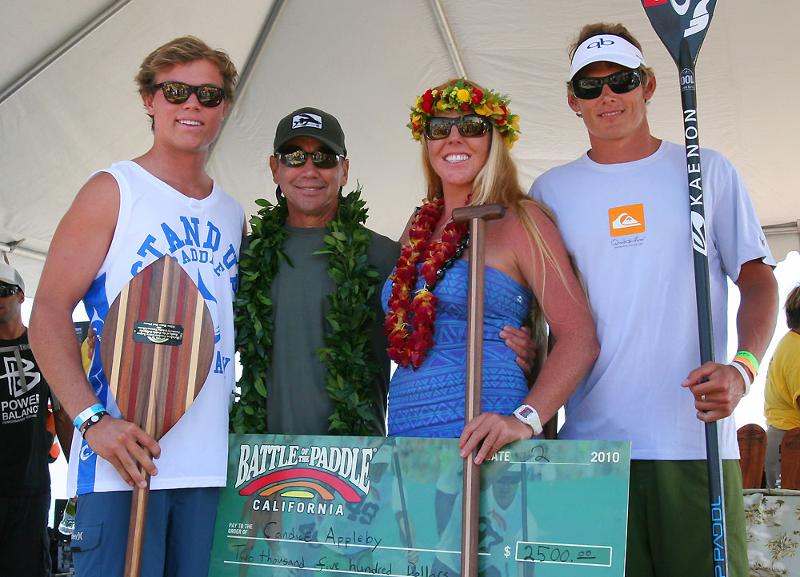 Surftech A-Team, Slater Trout, Gerry Lopez, Candice Appleby & Jamie Mitchell
Check our Facebook page for more race photos or go to our web site, surftechSUP.com
Become a Surftech SUP Fan and
Enter to win a Stand Up Paddleboard!

For info: Duke Brouwer | duke@surftech.com
Related posts