October 29th, 2010 by evan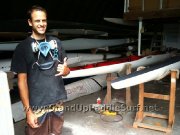 I was watching the live webcast of the Molokai Hoe race (OC Paddler TV did an awesome job with this) a couple weeks ago and heard the info on how Luke Evslin, one of the founders of Kamanu Composites got into an accident during the race in which the boat's propeller ran into him. At the time, the announcers didn't know his condition but since then we now know that he could have died. From the look of the wounds and the stories around the situation, it's amazing he lived but I think the future has great things in store for Luke. How else can you explain it?

Luke's attitude and disposition is and was unbelievably positive and full of graciousness. He is a special guy. Say a prayer for his speedy recovery.
Luke – Get well soon!

Ron Mizutani has a great article mentioned below:
http://www.midweek.com/content/columns/currents_article/a_near_tragedy_in_the_molokai_hoe/
A Near Tragedy In The Molokai Hoe

Luke Evslin with canoes he built

The canoe paddling community was recently reminded how precious life is and how quickly things can change. The revelation happened during the 2010 Molokai Hoe when one of Hawaii's finest paddlers, Luke Evslin, was severely injured 30 minutes into the race.

The 41-mile journey from Molokai to Oahu across the Kaiwi Channel is a demanding open-ocean race. Conditions can be brutal and dangerous. Chaos comes early in this event when more than 120 crews make their first ocean changes off La'au Point, Molokai. It is a time when exhausted paddlers are relieved by team-mates trailing in a motorized escort boat.

It is always the most intense moment of the race as escort boats carefully weave their way through traffic, dropping off and picking up paddlers, while dealing with surging tides, back-wash from other boats and ocean swells coming from different directions. It resembles a massive washing machine but instead of dirty laundry, human lives are in the midst of the turbulence.

Evslin and his canoe mates from Kailua Canoe Club were doing their first change when the accident happened. He had just jumped into the ocean with two other paddlers when a wave hit their escort boat, sending it on top of Evslin. In a split-second, a propeller sliced through his back, causing extensive injuries. Evslin later said he thought he was going to die, but that was not an option for his teammates and coach Hank Leandro.

Evslin was gently placed on the escort boat where friends and coaches quickly became medics and life-savers. It took nearly an hour to return to Hale o Lono Harbor on Molokai, where paramedics were waiting. He was stabilized on Molokai then flown by helicopter to Maui, where surgeons worked to save his life.

Meantime, his teammates paddled on to Oahu unaware of his condition or if he even survived. There was no escort boat to rely on, which meant six men "ironed" the race with fatigued bodies and heavy hearts. What they accomplished was remarkable.

Once on land, word of the accident traveled quickly. Club members embraced. Many paddlers prayed, others cried. Within hours news of Evslin's injuries had spread across the globe and well-wishes started pouring in.

Luke Evslin in the Kamanu Composites shop


The concern is understandable. Luke Evslin isn't only a paddling brother, he is also a fine young man who has touched many lives in the paddling community. The Kaua'i native is one of the owners of Kamanu Composites, a company that builds canoes. He and his two high school classmates Kelly Foster and Keizo Gates wanted to "become the most amazing company in the entire world … and build canoes while we're at it." They've done just that and so much more.

The 25-year-old Evslin is a great paddler, a superb businessman and simply a good person. Later that night he proved just how amazing he really is. Less than 12 hours after suffering life-threatening injuries, he sent this blog on ocpaddler.com from his hospital room on Maui:

"Like the addict I am, I just got on here to check out the results. After reading this post, I am crying for the first time all day. There is so much love in the paddling community that it's overwhelming. I'm on an iPhone and on heavy painkillers, so this might end up incomprehensible.

"I wanted to say a couple of things. This was in no way the escort driver's fault. It was a combination of bad factors that led me to be under the boat. I'm not sure what the future has, but this really affected my life. It can happen so quickly to anyone out there. You always hear people saying how shocked they are when something really bad happens, that you never thought it would happen to you. It can happen. No matter what we're doing, we could all die in a flash. And we should never forget that. I feel like I want to go home and give everyone in the world a hug, especially the paddling community.

I am blessed to know a lot of paddlers, and I feel honored to have each of those relationships. I've definitely learned from this. Live life to the fullest. Love everyone, especially your friends and family. Thank you, guys, for the kind words, I really am still crying. Huge thank you to Don, Hank, Makana and every single person who helped me along the way. Everyone has been awesome. You guys all saved my life today. And huge props to Kailua Canoe Club. Those guys are incredible for ironing the channel. In a manly way, I really love you all."

Luke, mahalo for being who you are. We wish you a speedy recovery. You have many more lives to touch.
——————–
Here's another article from the thegardenisland.com if you're interested.
Related posts