December 27th, 2010 by evan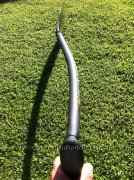 I recently got a new OC paddle from C4 waterman. It's a double bend shaft, all-carbon outrigger paddle with a Tahitian style blade that Todd Bradley designed with George Cronstadt.

I've only used it for one-man paddling but you can probably also use it for 6-man paddling. I really like this paddle. It's really light at only 16 to 18.5 oz (depending on length). The paddle has a great feel in the water and the dihedral in the back/spine helps keep the paddle blade straight. The double-bend is not really that dramatic, it's more of a slight bend. But it does help me get a farther forward catch and it feels like it's more powerful that a straight shafted paddle. The shaft has a matte type finish which adds a little grip and the handle is a palm grip although a bit smaller feeling that on the SUP paddles.
IMO, this is one of the best paddles that C4 makes.
The double bend shaft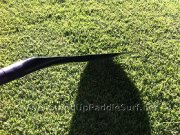 Side view of the blade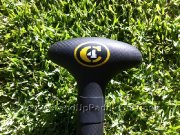 The handle
Here's more info taken from C4 Waterman's site:
Our lightest outrigger paddle. Only 18.5 oz. This is an all-carbon double bend shaft with our breakthrough 9.5″ blade.

Features

Comfortable carbon palm grip handle
Light, strong, oval double bend carbon shaft
Beautiful 9.5-inch blade
Perfectly angled blade
Max length 56″
Weight 18.5 oz

Technical Specs

Oval carbon double-bend shaft
Wooden T-top
9.5″ Carbon Blade angled for performance
Weighs 18.5 oz.
Related posts