July 8th, 2011 by davi
Connor's Re-Cap from July 4th's Big Event – and WINNING 1st Place!!

The Hui He'e Nalu Independence Day Race
After Sunday's Triple Crown Event – I was on a plane to Oahu for this event on Monday.

The 2011 DaHui race was one of the best events I have been to this year. The race started at Sunset Beach on Oahu's North Shore. Before the event everyone got together for the Pule – Hawaiian Blessing and it was a circle of over 550 people, so the whole beach was filled with SUP and lay down paddlers.
The lay down paddlers started first and we started 10 minutes after them. There was a total of 545 Competitors, and 363 were Stand Up Paddlers. What was really great at this event is they had so many different classes to enter in – racers, novice, tandems – mothers and daughters, fathers and sons, as well as kids classes.
We started in-between two buoys outside of Sunset. The race was only 4 miles down to Waimea Bay. So my tactics for this race were simple, sprint as hard as I can for 4 miles until I get there. So when they started the race I sprinted right from the get go and I pulled into the front. The conditions were OK, but could have been better. It was super light and it was pretty much a flat water race but I still caught some small bumps in the beginning. Halfway into the race I was a good distance in front of second place. I still was paddling as hard as I could and still felt strong. As I got closer to Waimea the wind was blocked and it went completely flat for the last mile. So I put my head down and just tried to stay in front until the end of the race.
As I got closer to the finish there were hundreds of people on land, in the water swimming and on boats – waiting for everyone to come in. So being the FIRST SUP paddler to be coming in – they were all cheering for me, which was super cool.
But the race wasn't over. To top off the 4 mile paddle we had at least a 100 yard run uphill on the beach. Luckily they had a lot of water and snacks when you finished and of course a nice burger. Once everyone got in they had a band playing great music and then they started the awards. I was super stoked to be a part of this race.
And – Guess what. My Dad – Keith entered the race. He ended up getting Second Place in his Age Division!!
I want to thank my sponsors for all their help and support – Starboard, Rainbow Sandals, Maui Jim Sunglasses, EFX Technology, Dakine, Nike, GoPro Cameras, On It Pro, Waterman's Sunscreen, Sunrite Maui, SIC and Hi-Tech Sports.
Also a big Mahalo to all the event organizers and volunteers. What a Great Event!!!
Aloha -
Connor Baxter
Here's a Youtube Video with an Interview With Connor:


(click thumbnail to launch video)
Results top 6 Men:


Photos: DaHui Web Site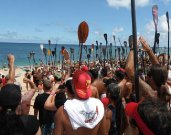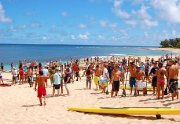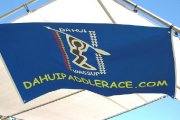 Related posts