August 9th, 2011 by davi

C4 Waterman, Inc. Sets Guinness World Record for Largest Stand-up Paddle Board at 2011 Outdoor Retailer Show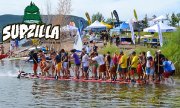 SALT LAKE CITY, Utah––August 4, 2011––C4 Waterman, Inc. accomplished yet another milestone this past Wednesday by setting a Guinness World Record (GWR) for the largest stand-up paddle board. SUPZILLA, measures 32 feet 5 inches long, 6 feet 10 inches wide and 7 5/8 inches thick. The paddling feat was the last step required from C4 Waterman, Inc. in order to have the record acknowledged by the GWR committee.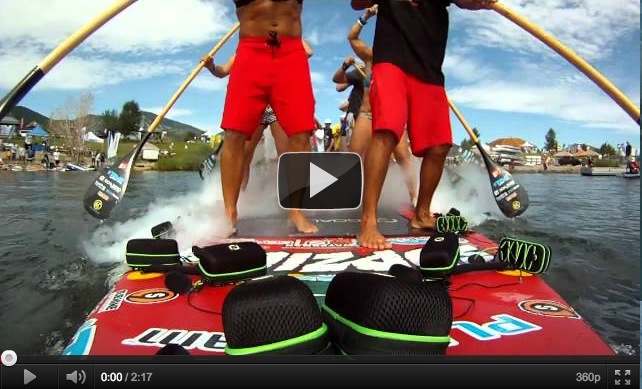 SUPZILLA succesfully transported 31 paddlers around the packed shores of the Jordanelle Reservoir at the 2011 Outdoor Retailer (OR) Open Air Demo. While vendors and spectators raised their cameras, SUPZILLA billowed dry ice smoke and a special theme song blasted from the solar speakers mounted to the nose.
It was a four-month long endeavor that came to a close in a matter of minutes and was made possible with the support of Outdoor Retailer Staff, Teva, Goal Zero, GoPro, and PLUSfoam. The world record set by SUPZILLA will be around much longer and the board will now travel the world exploring new countries and spreading both the aloha spirit and the C4 Waterman, Inc. creed.
"We were here at the demo seven years ago with the first production SUP boards and paddles and everybody thought we were crazy. Many people had never even heard of the sport. At C4 Waterman, Inc. we seek to be seen as innovators and leaders in the industry. Recently, myself and co-founder Brian Keaulana, had this vision of SUPZILLA. We decided to try and build the biggest SUP board on Earth!" said C4 co-founder and CEO Todd Bradley of the record achievement.
To learn more visit www.c4waterman.com or www.sub9surf.com
Related posts