July 5th, 2012 by evan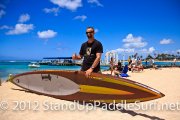 Here is the latest SUP race board from S.I.C., the Bullet 17′4″ version 2. Late in 2011 Mark told me he wasn't expecting to improve the Bullet 17 much for 2012 but I guess he changed his mind. I found out from Ed Wheeler that there was a new Bullet in town and had to find out more. I caught up with Mark at the 2012 Quicksilver Waikiki Race and checked out the new board.
People ask me what changed between the v1 and v2. It seems like quite a bit of small changes that turned into a pretty significant improvement in performance. Looks like the width, rocker, volume distribution, nose, deck and more were changed. Scott Gamble has been paddling his fastest times on the new v2. He has an ultralight white color model and I saw it at the Wet Feet/Blue Planet race. Actually, I saw it at the finish line of the race because Scott was so far in front that I didn't even see him during the race and I was on an OC1.
I've been riding the Bullet 14 v2 because I haven't gotten a 17 v2 yet and notice the longer glide along with the ease of getting into bumps. I've heard similar things about the 17 v2.
Mark Raaphorst explains the new features of the board in the video below.


(click thumbnail to launch video)
I was nursing a back injury (non SUP related) so Mark was kind enough to give us a demo on how the board rides in flat water conditions.


(click thumbnail to launch video)
SUP surfer/racer Ed Wheeler also tried out the new Bullet 17′4″ V2 are here are his impressions.


(click thumbnail to launch video)
Related posts