December 12th, 2011 by evan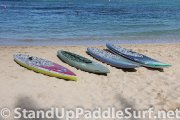 I caught up with Mark Raaphorst to show off some of the new SUP race boards for S.I.C.'s 2012 line.



(click thumbnail to launch video)
Mark was also our paddling model for the board demo video. These were shot at Turtle Bay in the lagoon area.
Check out the clips below.
S.I.C. X12



(click thumbnail to launch video)
The 2012 X12 is for flat water racing. This board was really light and easy to carry around. The handle was redesigned and a big improvement over the handles offered today. This board has a flat rocker, displacement type nose and recessed deck. The video has more info.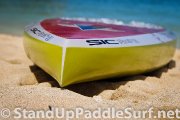 Displacement nose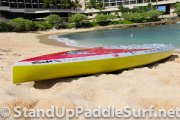 Full rails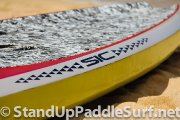 Contoured deck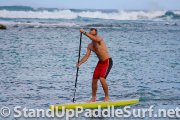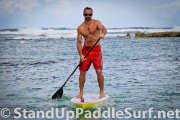 More pictures: http://www.standuppaddlesurf.net/nggallery/page-63/album-1/gallery-645/
S.I.C. Bullet 12′



(click thumbnail to launch video)
The Bullet 12 is the baby brother of the Bullet 14 and 17, my favorite SIC boards. This board is designed for surf race and downwind conditions. I was especially impressed by the surfing capability of this board. Mark surfed it at Turtle Bay in overhead North Shore Oahu conditions. You can see the pictures in the Bullet 12 post and gallery. I don't think there will be any question of how it surfs after that. I ordered one with a steering system and plan to use it in smaller surf on the South Shore. I was also impressed with the weight of this prototype. It was really easy to move around.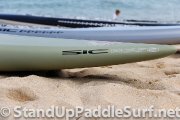 Nose rocker of the Bullet 12′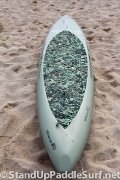 Full size pad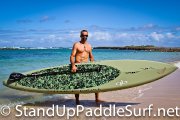 Comes with built-in carrying loops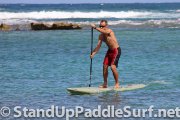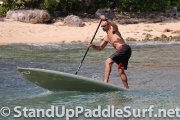 More pictures: http://www.standuppaddlesurf.net/nggallery/page-63/album-1/gallery-646/
S.I.C. Bullet 14′



(click thumbnail to launch video)
Here is a link to a post that I made about the S.I.C. Bullet 14′ back in January: http://www.standuppaddlesurf.net/2011/01/20/s-i-c-custom-14-bullet-sup-stand-up-paddle-race-board/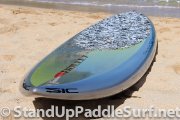 Same shape as the current Bullet 14′ but will have the
option of having a steering system or fixed fin
More pictures: http://www.standuppaddlesurf.net/nggallery/page-63/album-1/gallery-647/
Related posts