July 25th, 2012 by davi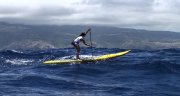 FOR IMMEDIATE RELEASE
Contact: John O'Malley, 808 372-6018
ANDREA MOLLER SEEKS THIRD CONSECUTIVE CHANNEL CROSSING WORLD TITLE
Honolulu, Hawaii-July 24, 2012
This weekend, Planet Sun Paddler Andrea Moller attempts to become the first woman ever to claim three back-to-back victories at the Molokai to Oahu Channel Race. Ms. Moller won the event last year on stand up paddleboard, setting a women's course record with an incredible 5 hours, 26 minutes, 51 seconds finish time.
The "Molokai- 2- Oahu Race", heralded as the World Championships of Paddleboard Racing, pits competitors against a most formidable challenge. Covering 32 miles of open-ocean, over 300 competitors will cross the Ka'iwi Channel (also known as the Molokai Channel) from the North Shore of Molokai to the South Shore of Oahu on prone paddleboards or stand-up paddleboards (SUP). The fastest athletes typically complete the crossing in just under five hours, facing treacherous currents, open-ocean swells of up to 30 feet and depths up to 2,300 feet. This year's race, set for 29 July, boasts the largest women's field ever.
Andrea Moller knows the Ka'iwi (kah-EE-vee) Channel very well. She has crossed the channel 14 times, earning 10 championship titles, and has the course record on stand up paddleboard. Andrea is also the only woman to win the event on both stand up paddleboard and Ocean Canoe (OC-1 relay and OC-6). One of the most respected waterwomen in the world, she has amassed an impressive collection of ocean sport titles and is known for her exploits in surfing "Jaws" on Maui. Andrea also recently won the Triple Crown of Stand Up Paddling, taking all three races in the series, with the longest leg at 27 miles.
Andrea offered her thoughts on the upcoming race:
"I am very fortunate just to be able to do this race. Regardless of the outcome, I feel blessed to have the physical and mental abilities to make it to the start and finish line. Each year, his race means something different and very special to me. I honestly don't know what to expect or how I will feel about the race until I start to paddle, and then it is me and the Channel. Ultimately, at the end, there is always an overwhelming sense of accomplishment and joy.
My goal is to just have fun and enjoy the whole experience, and to see and embrace the many friends I have made at this event over the years. I hope to inspire other women to take up paddling and enjoy it as much as I do. It is wonderful to see the great positive impact the sport is having on women, and what it does to improve fitness and self esteem. I am also very excited at how many women are competing in this year's event- record numbers! For many years, it was just me and a handful of other women racing, now I have to train even harder!"
Andrea joins 18 other Planet Sun team members who are instrumental in the research, development and validation of their products. Planet Sun LLC is an Oahu, Hawaii based Suncare Company that specializes in performance suncare and UV Protection. The core of the company consists of athletes and physicians, who develop, test and deliver their products and services. For more information visit: www.planetsunhawaii.com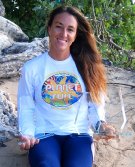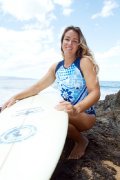 Related posts