August 4th, 2011 by davi
FOR IMMEDIATE RELEASE
Contact: John O'Malley, 808 372-6016

PLANET SUN'S ANDREA MOLLER WINS 2011 WORLD PADDLEBOARD CHAMPIONSHIPS, SETS NEW RECORD
Honolulu, Hawaii- 3 August, 2011
On 31July, Andrea Moller became the first woman ever to claim back-to-back victories at the Molokai to Oahu Channel Race, on a stand up paddleboard. Moller finished the race in an incredible 5 hours, 26 minutes, 51 seconds distancing herself four minutes over the next female competitor, and beating the record time she established last year by over half an hour.

The "Molokai-2-Oahu Race", heralded as the World Championships of Paddleboard Racing, covers 32 miles of open-ocean across the Ka'iwi Channel (also known as the Molokai Channel) from the North Shore of Molokai to the South Shore of Oahu. Competitors face strong currents, precipitous ocean swells, and depths up to 2,300 feet on either prone or stand up paddleboards. Australia's Jamie Mitchell won the event, earning his tenth consecutive world championship title in record time of 4 hours, 40 minutes, 31 seconds.
Moller, who is currently attending an 18 month paramedic training course, looked strong at finish despite a year of limited training and competition. When asked about her performance on the day, Andrea said: "I really didn't expect to compete in the Worlds this year due to my academic schedule. However, preparing for and racing in the Triple Crown of Stand Up Paddling series in Maui gave me the conditioning and edge I needed to go for it." It is also worth noting that Andrea won all three races in the Triple Crown Series
This event marks Andrea's 14th Molokai Channel crossing, and her 10th Championship title. Andrea is also the only woman to win the event on both stand up paddleboard and Ocean Canoe (OC-1 relay and OC-6). One of the most respected waterwomen in the world, she has amassed an impressive collection of ocean sport titles and is known for her exploits in surfing "Jaws" on Maui.
Andrea joins 16 other Planet Sun team members who are instrumental in the research, development, and validation of their products. Planet Sun LLC is an Oahu, Hawaii based Suncare Company that specializes in performance suncare and UV protection. The core of the company consists of athletes and physicians, who develop, test and deliver their products and services. For more information visit: www.planetsunhawaii.com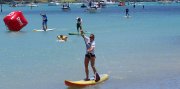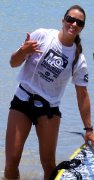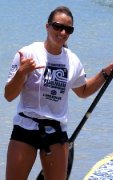 Related posts