July 28th, 2010 by davi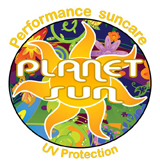 ALOHA!
Ocean Canoe Paddling Championships rock Oahu. An incredible weekend of OC paddling with two back-to-back Championship Regattas hosted by the Hui Wa'a and Oahu Hawaiian Canoe Racing Association. The regattas are purely awesome events with thousands in attendance- not only competing in sport, but perpetuating tradition, culture and sharing much ALOHA. Six person crews hammer all out in anaerobic threshold effort during in sprint distance races ALL DAY long. Planet Sun enthusiastically on site at each event, offering suncare to all in Extreme UV Index conditions… PS pump sunscreen and Personal SunShelter UV Brellas dotted the lagoon.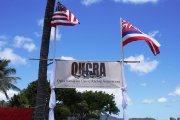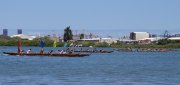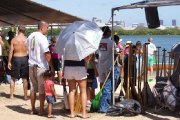 Our own Anna Mathisen crewed up with 5 other wahine paddlers to win the Women's Junior One Mile race. Anna's efforts here one day after claiming Age Group victory at the 1.6 mile JACO Chun's to Waimea Ocean Swim race, part of the Surf N Sea Swim Series. Anna's all around ocean impressiveness is rooted in swimming, but she now credits her long distance Ocean Canoe (OC-1) training to recent successes. She's finished top 3 AG in all her swim races thus far, lets see how she does in the 2.3 mile North Shore Challenge race on 7 AUG. Pics of the Regatta fun to include Anna with crewmates. Also highly accomplished waterman, Jim Fote and his son stopped by our suncare station. Planet Sun Face Formulation sunscreen and Sunphibian Sunglasses are among Jim's favorite of gear. A pic of relief under a Planet Sun Shelter as well.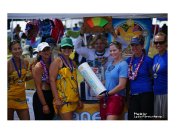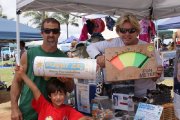 We couldnt help but notice Trish Havey decked out in Tin, Titanium and Zinc Oxide at the recent Tin Man Triathlon in Honolulu.
Trish took a pause from racing to cheer her pals at this Iron Man precursor. This lady outdoes herself at everything. ew packaging.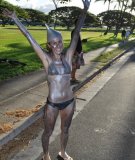 Planet Sun Product Update. New box packaging for our Face Formulation Suncreens and lip balm- Watch for our new and very groovy box packaging at stores soon.
PLANET SUN VANILLA RAY Lip Balm back in stock!!!! After demand and protest, we brought our SPF 30 Vanilla lip balms back to earth.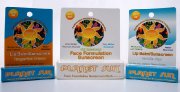 On the Horizon
Chet the Jett tests his engine. Chet and his crew are running a 100 miles around Kapiolani park this weekend. The endeavor to check training progress and to raise funds for his trip to take on the Double DECA triathlon in Mexico this November. Estimated finish at 0900 on 31 July, with a post run celebration on site.
7 August: HCRA Hawaii State Regatta Championships, Ke'ehi Lagoon
8 August: Na Kama Kai Children's Ocean Clinic: Waimanalo Beach, Oahu

The Planet Sun SportReport chronicles the endeavors of a young suncare company and the world class athletes we sponsor.
For more on our Planet and Products, please visit at:
FaceBook: http://www.facebook.com/pages/Planet-Sun-Hawaii/132627306762319?ref=ts
and at www.planetsunhawaii.com

John O'Malley
President, Chief Motivator and Inspirator
Planet Sun Comprehensive Sun care and UV Protection
ph: 808 372-6018
fax: 808 254-4110
www.planetsunhawaii.com
Related posts