July 30th, 2012 by evan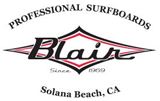 I recently visited Joe Blair at his surf shack in Solana Beach, California. This was the first time I've been to his place and it was great because I took my boys and they got to learn a bit about surfboards and later paddled at Cardiff. In this video, Joe shares some of what's new with his SUP surfboard designs.
He's changed quite a bit in the last year which I can verify seems to be working for the better. The new 8′11″ surfs and paddles much better than the one he shaped me a few years back. The board also flew off my car while driving and didn't crack. That was pretty amazing and even more amazing is that it didn't hit any other cars.


(click thumbnail to launch video)
Related posts