September 3rd, 2012 by evan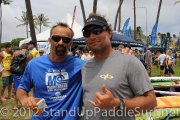 I caught up with Dave Kalama at the 2012 Molokai 2 Oahu Paddleboard Championships. Dave was the SUP unlimited division runner up to Connor Baxter by 30 seconds. They battled back and forth the entire 30 something miles and it came down to the absolute finish where Connor won by a hundred yards or so.

Dave is pictured above with Mark Raaphorst (left) who designed his race board for this race which he said would be his last solo SUP M2O crossing. We'll see Dave in the team division and we're looking forward to more records being broken. Dave is over twice Connor's age and still one of the best watermen in the world. Congratulations Dave! You inspire us all.


(click thumbnail to launch video)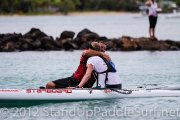 Dave congratulating Connor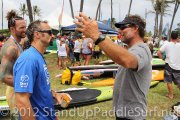 Dave with Mark Raaphorst
Related posts