August 2nd, 2012 by davi
For the Second Consecutive Year – Connor wins the Molokai-2-Oahu World Championships – and beats his own record set last year by over 13 minutes.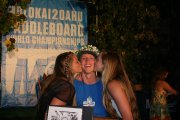 Connor Baxter, 17, from Maui defended his 2011 title in a time of 4 hours, 13 minutes, 26 seconds. This was a repeat victory for Baxter who exchanged the lead many times with M2O veteran Dave Kalama who is 30 years his senior. Baxter's finish time beats his former course record by more than 13 minutes set last year.
"This year I had Dave (Kalama) right next to me, so it felt like a sprint," said Baxter. "It was back and forth the whole time."
Connor had been sick with strep throat the week leading up to the event. Antibiotics and vitamins were not enough – and he almost pulled out of the race. But, when his sister Ashley flew in from California to surprise him – things started to turn around. On Thursday he announced he was definitely doing the race.

Story by Connor:
My Sister, Mom and I left Maui on Friday morning and flew to Molokai. Our friend Clare picked us up at the airport, took us to the grocery store to stock up on food and then drove us to our condo on the west side. It's great getting there early and having a couple days before the race to enjoy Molokai.
Our boat arrived on Saturday with our good friend and Captain Tom Peach, his son Alex and my Dad!!
On Sunday morning, we started early. The race start for all the Solo paddlers was at 7:30am. But before there is the Pule' at 6:30 and then it is a mass exodus of people and gear off the beach and onto boats.
I started at the windward side of the start line and got off the line quick. The weather was overcast and we had a variety of conditions. Wind, no wind, rain squalls.
For the first half hour the escort boats have to stay clear of the competitors. After this half hour we all started spreading out. Some take a more northern route, others south. I could see Dave to the south of me and Livio behind me. Dave went quite a bit more south – but after about an hour and a half our paths met – and we were on the same wave.
And, then for the next 2 1/2 hours we were together. He would have the lead for a little bit – and then I would. We shared waves and then one of us would get back in front. It made both of us work as hard as we could. And, it definitely made it more fun.
Before getting to Oahu I finally took the lead and kept it. Trying to get as much distance on Dave before the grueling upwind battle.
Getting around the wall and catching some of the waves around the point – both Dave and I fell. We were so close at this point I knew I had to give it all I had to win.
Having my support boat cheering me on – hearing my sister, mom, dad, Tom and Alex – kept me going. They kept yelling that I was going to beat my record – which made me paddle harder.
I crossed the finish line first – only 24 seconds in front of Dave. After 4 hours all that separated us was 24 seconds. Thanks Dave for an incredible race!!
I want to thank my sponsors for all their support – Starboard, Maui Jim, Rainbow Sandals, Rista Fins, Dakine, GoPro, OnIt Pro, Waterman's Sunscreen, Sunrite Maui, Hammer Nutrition, EFX, Igloo Coolers and Hi-Tech Sports.
Also a big Mahalo to all the event organizers and volunteers. Fantastic Event!! I'll be back next year for sure!!!!!
Aloha -
Connor Baxter

Start Line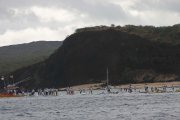 Me out in front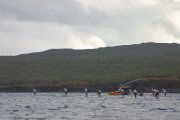 Loads of Boats behind us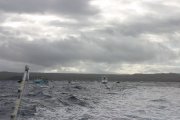 Dave Kalama and me.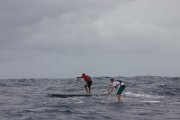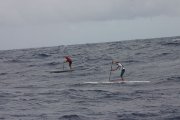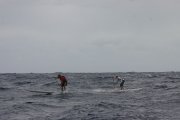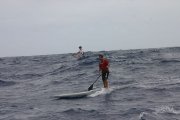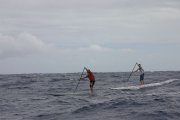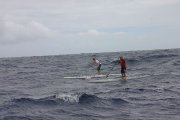 In the lead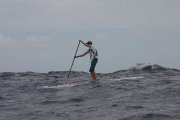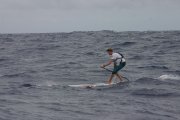 Oahu in the distance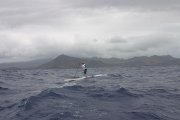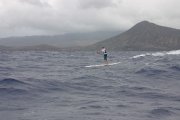 Getting around the wall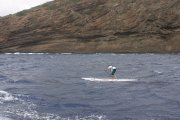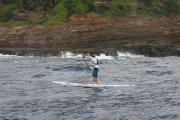 Upwind to the Finish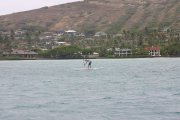 Talia, Livio and Me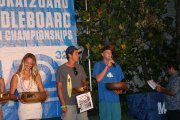 Talia and Me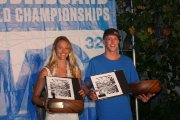 The End!!
Related posts