August 5th, 2012 by evan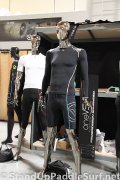 In June, I got the chance to visit the guys at VIRUS Action Sport Performance at their HQ in California. Ryan Rubiano and Sten Rasmussen graciously gave me a tour of their facilities as well as an extensive run down on their current product line-up. In March I hurt my back and shoulder. I had an inflamed disc that made me feel like I was crippled. To make it worse, I pulled my shoulder too. I was in desperate need of anything that could help me speed up my recovery. I've been using the Virus compression pants and top almost every single day since June and I'm convinced the product works for me.
I initially heard about Virus from a press release that was sent to me showing that the Quickblade racing team was using their gear. I now use Virus gear in and out of the water. Since my initial visit with Ryan, I've become very familiar with a few of their products. Compression is supposed to increase blood flow and reduce micro tears to muscle tissue. The claim is that the far infared rays from the bio ceramic material that is nano impregnated into the fibers of the material that should aid in muscle recovery and increase endurance. I wear the long sleeve bio ceramic form compression top when I SUP surf and race. The X form on the back really helps keep me from hunching over. I need all the help I can get. If I'm racing, I wear the long sleeve top and bio ceramic compression long pants. The pants really help my leg endurance during downwinders and I also wear them at night when I sleep. I find that I feel much more "recovered" the next day. These pants live up to the claim for me.
I tried the boot cut compression pants but I like the full length pants better since it also covers my calves. I've also tried the aquatic airprene shorts when I paddle my OC-1 or go swimming. These shorts are a bit thicker than the normal lycra jammers and thinner than wetsuit material. All of the Virus gear that I've tried so far fit really well. I have no complaints so far.
I shot some video at the Virus HQ. Ryan and Sten give a detailed run down on their line. They also give a lot of tips on how to take full advantage of the benefits from their performance apparel when used not only in different sporting conditions but also during rest and recovery. Check out the video below:


(click thumbnail to launch video)
Related posts