December 24th, 2012 by evan
Guest post from Kari Leong (2x Winner of Hawaii Business Magazine's Fittest CEO Contest)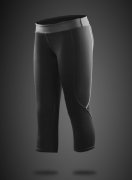 I was so excited to get my own Virus International Crop Pants and V Neck Top. Evan has been raving about how his Virus Compression gear helps his body to "recover" after a hard SUP session. I wake up at 5 am each morning to work out for about 60- minutes. Since I'm scared of sharks, I stick to land based exercise. Sometimes I'll do Beachbody workout videos and sometimes I'll go on the elliptical machine. After having three children, it takes "a lot more working out" to get my body close to its same shape and form.

I normally work out in a sports bra and shorts, so when I first put on the Virus International Capri Pants, I noticed right away that the material was smooth and sleek against my body. What I liked best was that it hugged my body and all of its curves without squeezing some skin over the top of the edges. It fits really well.
I also tried using the Virus International Capri Pants (boot cut) while sleeping. I noticed within the first night of using the Virus International Capri Pants that when I stood up out of bed, my upper thighs and hips felt good, with no lower back pain, however there didn't seem to be any changes in my calves. I think this is due to the style of pants. The style of pants that I got were the capri style crop pants so they don't cover my legs all the way down to the ankles. However, the compression of the material over majority of my leg did make my leg muscles feel stronger. For nighttime recovery, I think the full length pants are a better option.
The next test was to use the Virus International Capri Pants during my workout. One thing that I loved was that the material held in my skin. My body didn't feel flabby and did not jiggle as I jumped, skipped, hopped, danced and kicked. The compression allowed my body to have a good workout and help my legs feel "supported." The support that the Virus International Capri Pants had to offer made my body feel so good that I was able to have a better workout.
Another thing that I loved was the light weight of the material that doesn't allow your sweat to sit on your skin. It pulls the sweat away from your body keeping it cool throughout the workout. This also helped me to continue to push harder throughout my workout and not feel overly hot and sweaty.
I would recommend this to others who work out. It's a great workout outfit for the reasons above, but it's also a sleek looking outfit to just hang-out all day in. I do recommend the full length pants for recovery which would provide full coverage.
Related posts