September 5th, 2013 by davi
This was sent to us via email by Karen Baxter.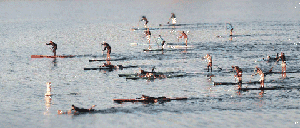 Hey guys and girls,
Just wanted to invite you all to the Water Warrior "Amphibious Assault" Elite race.

This is a concept I have been working on for the last 2 years to help make racing more exciting and appealing to a whole new group of endurance athletes that will in turn push and help the Elite SUP racers become even stronger in a variety of conditions as well as push the endurance side with sand running and Obstacles etc.
I look at this as a perfect race to help condition yourself for the BOP.
For those of you who haven't heard about it:
Its a SUP sprint race thru the surf around a series of buoys then back to the beach where you run 100 yards thru 5 different sand/man made obstacles (over/under sand pits, flag run, cargo net climb etc.) which finishes in the protected OceanSide lagoon, where you will sprint paddle on flat water thru another series of buoys, where each lap you will exit water run up and climb cargo net and back into water for a series of 3-6 laps finishing off with a sand obstacle finish.
This is the ground breaking year and we have secured a 5 year contract which will turn the one day event into a 2 day festival with an even bigger race as well as SUP surfing etc.
Please feel free to pass it along to any and all racers and get the word out.
We look forward to having you all here.
Aloha,
Chuck Patterson

Click the links below to register and learn more about the Huge event on September 14th, held in OceanSide, CA on the Camp Pendleton military base.
https://www.raceit.com/Register/groups/default.aspx?newgroup=true&event=20919
http://hardcorpsraceseries.com/water-warrior-beach-festival
Related posts