September 11th, 2013 by evan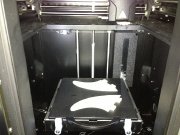 My friend Collin Kobayashi of 3D Innovations just popped out some SUP fins for his new board. Collin just got into SUP and is an engineer for his daytime gig. Check out the post he did where he shows how he made the fins. We're gonna test them at the beach this week.
Case Study: Additive Manufacturing/3D Printing Gets Wet

Additive manufacturing (also known as 3D printing) provides solutions for a number of every day problems. You constantly hear and read about individuals using additive manufacturing to build replacement parts for common products. Below is a real world situation that was recently encountered and how additive manufacturing was utilized for the solution.

Situation: For a moment imagine this, you are planning for a weekend at the beach full of Stand Up Paddling (SUP), but as you prep your board you find out that your fins are too badly damaged and cannot be used. You hurry to the nearest surf shop and unfortunately they are out of stock of the fins and they are currently on back order, so you try the next surf shop only to find out that they don't carry the kind that you need. As you start to become flustered you remember a friend that has a 3D printer and he uses it all the time for a range of solutions, so you give him a call to see if he can help…and of course he says "Yes I can print you one today!"

This problem isn't far fetched at all because we actually encountered a situation similar to this here at 3D Innovations. Luckily we were able to quickly design and 3D print replacement fins for the SUP Board.

Solution: With the use of additive manufacturing/3D printing, 3D Innovations was able to design and build fins for a Stand Up Paddle Board (SUP). With minimum customization, these fins were designed using a 3D CAD program and produced using Production Grade Thermoplastic material using additive manufacturing.

Once the 3D printing process was complete, the fins were removed and installed onto the paddle board. To ensure the durability and strength, these fins were actually tested in waters off Oahu (Hawaii). While it is hard to measure a difference in performance, the fins did provide an alternative to off the shelf parts and were easily customized to fit the specific model of the SUP board.
Click here to read the original article
Related posts