September 11th, 2013 by evan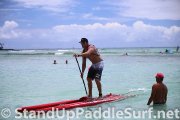 I caught up with Ed Wheeler at the 2013 Duke's OceanFest where he raced his SIC Standamaran. Ed got his first test ride when I got mine a month or so ago and he was blown away by the glide and how much easier it is on the body. Judging from his recent race finishes, he's getting the hang of it pretty quick.
I was surprised because I saw him race it again the next week even though his rudder was damaged from hitting the inside reef on his way to the finish. I guess he got it fixed pretty quick. Hear what Ed has to say about racing the SIC Standamaran in the Duke's Race.


(click thumbnail to launch video)
Related posts