August 16th, 2013 by evan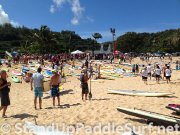 Da Hui always has a super fun, family friendly race on July 4th. This year was no exception. I think they had over 700 participants.
This year my boys agreed to race on an OC-2 and I escorted them on the SIC Standamaran. This race is normally quite a bit of paddling for me. I've done it on a SIC F14, F18 and F16 before. All were good but I was super tired at the finish. This year was the most fun I've ever had in a race. Part of that was because it was with my boys and the other part was because the Standamaran caught the smallest bumps and was perfect for the north shore conditions.
I ended up paddling ahead because the board kept catching bumps but had to wait for them to catch up. I kept hearing them argue with each other. It sounded like this.
"Paddle Harder!"
"Stop yelling at me or I'm not paddling!"
"Fine, if you're not paddling then I'm not paddling!"
"Just paddle already!"
It was funny because after the race the boys told me how much fun it was to paddle together. Lol. Can't wait until next year.
Here are some photos that I took from the 2013 Da Hui race.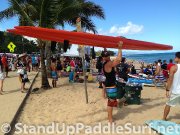 Ed Wheeler carrying the S.I.C. Standamaran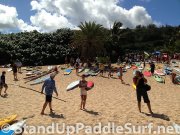 Participants and spectators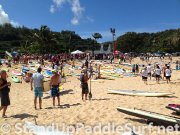 SUP boards and paddleboards galore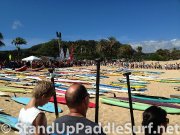 Participants and their boards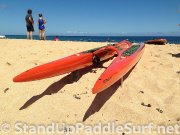 The S.I.C. Standamaran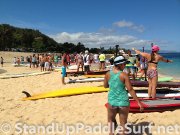 Waiting for the start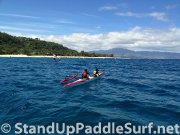 My boys, Buddy and Koko paddling an OC2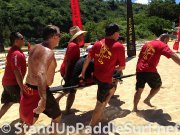 Da boys helping Kimo Akaka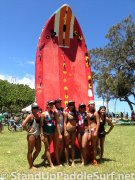 The C4 Waterman "Supsquatch"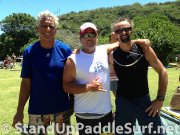 Greg Pavao (middle), Mark Raaphorst (right) and friend
I also took a short video of my boys paddling an OC2. Check out the clip below:


(click thumbnail to launch video)
Related posts