March 28th, 2014 by darin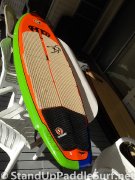 Review written by: Darin Leong
The C4 Waterman MR Pro is a fun board that balances stability and performance. This is a great board for intermediate to advanced riders who want a user-friendly stable board that turns well and has great top-end speed.

About the Board
Like the other C4 boards, the MR Pro was shaped by master shaper Dave Parmenter. However, this board was designed with input from former surfing world champion Mark Richards (hence the "MR" name). (We've posted some photos of Mark testing out the prototype). The MR Pro measures 9′2″ long x 29.5″ wide. It has a thickness of 4″ and 130 liters of volume. The nose is a rounded "V", but it's the tail that is really interesting to look at. The tail is a squash/square that includes a tiered taper, and two channels which direct water out the back and add some speed. You can set the board up as a single fin, tri, quad, or even five fin. I tried out the board as a tri, with a 6″ middle fin. The colors on the board pop, with bright green, blue and orange.
In the Water
I first took the MR Pro out in absolute mush. 15-20 mph winds, and knee-high waves. The board was very stable for my 165-pound frame, surprisingly so in choppy conditions. What was even more surprising was the board speed. I'm told by guys at the C4 shop that the slight concave design on the bottom of the board adds lift, which makes it faster once it gets going. The MR Pro has really good speed, even if the waves are weak.
On my second day out, the conditions were a bit better, with shoulder-high waves rolling in. Again, the MR Pro had good speed, and once it gets moving, it's apparent that the board is nice and loose to turn. It changes directions easily, and is capable of some tight turns.
Conclusion
The MR Pro is a nice balance between stability and loose turning performance. It's nice and stable for its size, but also provides a lot of fun in the surf.
Related posts