May 4th, 2015 by davi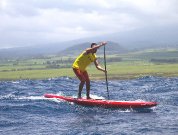 SIC was born on Maui and has a big presence there. It is clear to see that during the Maliko downwind run SIC has the absolute best boards for these conditions. It is estimated that 90% of the field at this weekend's 7th annual OluKai Ho'olaule'a race will be riding SIC Bullet's, regardless of their board sponsor. It is not just the SIC boards that are expected to perform well here, SIC has a talented pool of athletes paddling in this weekends race. Maui local and SIC team rider Andrea Moller is seemingly unstoppable and will be gunning for an amazing seventh straight OluKai title at the famous Maliko downwind run. Many believe Andrea's biggest rival will be her own SIC teammate Sonni Hoenscheid, who finished just behind her in second place last year. Hoenscheid is looking to be in top form judging by last weekends 2nd place result at Carolina Cup.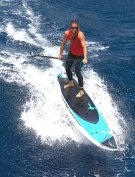 As for the SIC men, Georges Cronsteadt also had a great showing in the tricky conditions at Carolina Cup and is looking good coming into the OluKai.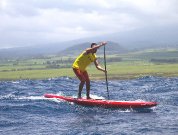 Livio Menelau is the 2010 Olukai champ and shines brightest when the wind gets nasty. If the conditions are as predicted this weekend, Menelau will be right in his element and looking for a podium spot. Of course the list would not be complete without Jeremy Riggs who is arguably the most experienced Maliko paddler. Riggs gives downwind lessons in Maui through his "Paddle with Riggs" school. For more on Paddle with Riggs click here: https://www.facebook.com/PaddlewithRiggs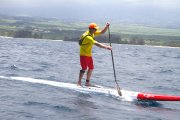 Related posts