August 31st, 2015 by evan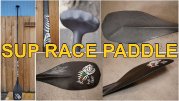 Welcome to another episode of Board Meeting. In this episode, Robert and I will talk about Blue Planet's new SUP race paddle prototype called the "Kai Zen" paddle. The paddle is light weight and made from high quality carbon fiber. Robert and his team are still finalizing the design and will launch the paddle on Kickstarter in the near future, so stay tuned!



(click thumbnail to launch video)
Please stay tuned to Board Meeting, our new SUP show where we talk about all things stand up paddle surfing and racing.
This show is presented by Evan from StandUpPaddleSurf.net and Robert from Blue Planet Surf Hawaii.
Related posts