September 7th, 2015 by evan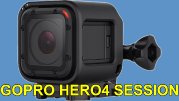 Welcome to another episode of Board Meeting. In this episode, Robert and I will talk about the GoPro Hero4 Session camera. The GoPro Hero4 Session is an excellent camera for use in the water. It is waterproof so you won't need to use a housing like on the other GoPro models, and it also has good audio recording.



(click thumbnail to launch video)
Please stay tuned to Board Meeting, our new SUP show where we talk about all things stand up paddle surfing and racing.
This show is presented by Evan from StandUpPaddleSurf.net and Robert from Blue Planet Surf Hawaii.
Related posts