October 19th, 2015 by evan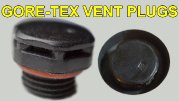 Welcome to another episode of Board Meeting. In this episode, Robert and I will talk about Gore-Tex vent plugs for SUP stand up paddle boards. Vent plugs are installed on SUP boards as a way to help prevent the separation of the fiberglass or epoxy layer from the foam core, also known as delamination.



(click thumbnail to launch video)

You can order the Gore-Tex vent plug shown in the video from Blue Planet Surf Hawaii:
http://blueplanetsurf.com/products/gore-vent-plug-replacement-screw
This show is presented by Evan from StandUpPaddleSurf.net and Robert from Blue Planet Surf Hawaii.
Related posts