February 22nd, 2016 by evan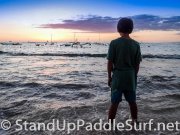 I saw Todd Bradley from C4 Waterman and he showed me the waterproof camera that he was using. It wasn't a GoPro. It was a point and shoot Fuji XP80. Todd said that Dale Hope and some others turned him onto it and he liked it.



(click thumbnail to launch video)
I went to Costco and picked one up to test out. At first I didn't really like it because there was no easy place to store it while paddling. You can't mount it on your head or board because it's too large and heavy. Putting it in your pocket also is a hassle and takes too long to get it out and shoot quickly. I ended up holding it in my hand while paddling.
I also took some pictures and video with the Fuji XP80 at sunset time and was really pleased with the results. I did some edits in Lightroom and Final Cut Pro X and for $139 this little camera is worth what I paid. I'll have to test it more but so far it's pretty good. I still think the image quality of the GoPro is better but this has zoom and is better in certain use cases.
Related posts