February 28th, 2016 by evan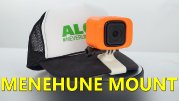 Welcome to another episode of Board Meeting. In this episode, Robert and I will talk about the Menehune Hat Clip/Menehune Mount.



(click thumbnail to launch video)
The Menehune Hat Clip/Menehune Mount is a removable and adjustable GoPro camera hat mount. For more info, please visit: http://menehunes.co/.
Please support our Kickstarter Campaign: http://kck.st/1QB6rAi
This show is presented by Evan from StandUpPaddleSurf.net and Robert from Blue Planet Surf Hawaii.
Related posts