March 14th, 2016 by evan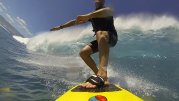 Welcome to another episode of Board Meeting. In this episode, Robert and I will talk about tow-in surfing.

From Wikipedia: Tow-in surfing is a surfing technique which uses artificial assistance (using a Jet Ski or helicopter) to allow the surfer to catch faster moving waves than was traditionally possible when paddling by hand. Tow-in surfing was invented by surfers who wanted to catch big waves and break the 30 foot barrier. It has been one of the biggest breakthroughs in surfing history.


(click thumbnail to launch video)
This show is presented by Evan from StandUpPaddleSurf.net and Robert from Blue Planet Surf Hawaii.
Related posts