November 16th, 2015 by evan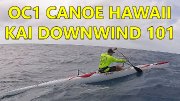 Here's part 1 of a three part video of a recent downwind run that I went on with my friend. We both rode on Pueo OC1 canoes.
In this series of videos, I'll share the techniques that I've learned from experts like Doug Lock, Todd Bradley, and Robert Stehlik. Mind you that I'm still a novice but hopefully you guys will learn something from these videos that will help you when you go on a Hawaii Kai downwinder.



(click thumbnail to launch video)
Related posts