November 14th, 2016 by evan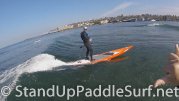 I visited Seattle recently and got the chance to talk to Rob Casey who is the founder of Salmon Bay Paddle.

The conditions in Seattle are mostly flat water. Fortunately, they have this thing called "freighter waves" which are waves generated by big ships passing by. According to Rob, waves vary from knee to chest high and can go for over an hour after a single boat has passed.
Then there's also "tug wake" surfing where they surf waves generated by tug boats. Rob explains more in the video.


(click thumbnail to launch video)
You can check out Salmon Bay Paddle at http://www.salmonbaypaddle.com/ for more info.
Related posts