November 28th, 2016 by evan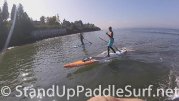 I visited Seattle recently and got the chance to SUP surf "freighter waves" which are waves generated by big ships passing by.



(click thumbnail to launch video)
Thanks to Rob Casey, the founder of Salmon Bay Paddle, for hooking me up.
You can check out Salmon Bay Paddle at http://www.salmonbaypaddle.com/ for more info.
Related posts