June 19th, 2009 by clarise
Santa Cruz, Calif. (June 13, 2009) – With a light fog greeting them at dawn, the record number of racers packing New Brighton Beach at the 8th Annual Surftech Jay Moriarity Memorial Paddleboard Race presented by CLIF Bar had little idea what was in store for them on the 12 mile course. Competitors discussed various course strategies while loading up on nutrition bars, gels and hydration provided by Jay Race Presenting Sponsor CLIF Bar. In 2008, Jay Race champion Chad Carvin of Laguna Hills, broke the course record in a time of 1:51:58. Would we see another course record set on this day? With Chad not able to come defend his title, would this be the year a local takes top honors once again? All questions would soon be answered.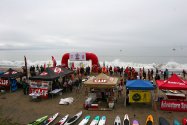 Race site
While having a strong showing in the race was clearly at the forefront of everyone's mind, the presence of Jay Moriarity was undeniable. No matter where you looked Jay's friends and family were woven throughout the crowd telling stories and reminiscing about the legendary Santa Cruz waterman. At the opening ceremony, Jay's friend and shaper, Bob Pearson, mentors Frosty & Zuef Hesson and wife Kim Moriarty gave inspiring testimonials reminding everyone what a beautiful life Jay Moriarity lived and how his life affected those around him. Many of Jay's loved ones even joined event announcers Julie Moss and Omar Etcheverry to say a few words about him over the course of the event. No matter how caught up in race day activities the spectators became, they were continually reminded why they were there, to remember and honor Jay.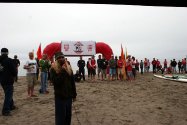 Kim Moriarity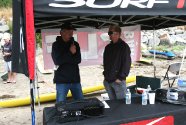 Bob Pearson
With the fog lifting and 92 eager paddlers in the water, the State Lifeguard siren signaled the start of the 12-mile endurance challenge. The field was a mix of Jay Race veterans such as locals Mike Dilloughery, Tony Mueller, Zach Wormhoudt, Joe Beek, Becky Sox & Brian Spear. Southern California returnees included Joe Bark, Dan Van Dyck, Jane Cairns & EJ Johnson along with East Coast competitor, Cynthia Aguilar hoping to improve upon her 2nd place finish in 2008. Many new faces could be seen slicing through the sheet glass waters of the Monterey Bay including So Cal Jay Race rookies Shannon Delaney & Todd Robinson along with local Santa Cruz Westsider Craig Waltz and the youngest competitor in the history of the event, 11 year-old Capitola local, Hunter Griffith. There were paddleboard clubs including the Santa Cruz Paddleboard Union, the newly formed Ghostryders and Carmel Waterman¹s Clubs. Even legendary Ironman Triathlete Hall-of-Famers Julie Moss & Wendy Ingram competed in the 2-mile short course.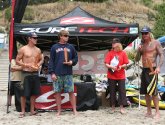 12-Mile SUP Stock 1st place
With the 12-mile long course under way, it was time to send the 2-mile short course athletes out. Paddlers use a completely different strategy for the short course as they do on the long course. Experienced racers give it all they have from start to finish while first time competitors may take a more steady approach, happy just to give paddleboard racing a try. Within minutes after the State Lifeguard siren sounded to start the race, two stand up paddlers quickly broke away from the chase pack. Neither the short course nor long course races had ever been won by a stand up paddler. This year that would change with Brian Haag of Southern California winning the 2-mile race on an unlimited SUP with a time of 0:23:59 followed by local Kayak Connection store owner Mark Pastick on a 12′6″ SUP with a time of 0:26:17.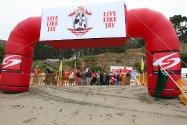 Jay Race arch
Nearly 30 minutes after the last 2-mile competitor crossed under the Jay Race finish arch, the O'Neill Yacht could be seen just off the kelp beds outside Capitola Beach leading two paddle boarders seemingly connected to one another. As the lead yacht turned off the course and the paddlers came into the spectators view it was clear that this would be a fight to the finish. To the cheers of the crowd, one paddler knee paddling and the other paddling prone, Santa Cruz's Craig Waltz, representing the Ghostryders and San Diego's Todd Robinson banged elbows and bumped boards all the way into the sizable New Brighton shore pound before an all out sprint to the finish. As the racers ran up the beach, Robinson lunged for the finish line with all he had left but fell just :06 seconds short of a Jay Race victory. Yes the Jay Race title was back in local hands as former Capitola Jr. Lifeguard; Craig Waltz claimed the victory with a time of 2:00:30. The locals weren't quite finished taking top honors though, as Tony Mueller won the Stand up Paddle Unlimited Class, Brian Spear won the Stock 39 & under Class and Mike Dilloughery won the Stock 40-49 Class. Other division winners included, Todd Robinson Unlimited 40-49 Class, EJ Johnson SUP 12′6″ Class, Greg Ford 14′ Class, Darrell Bednark Unlimited 50+ Class, Darrell Swenson Stock 50+ Class and Shannon Delaney winning the Women's Class unseating 5-time Jay Race winner Jane Cairns.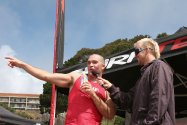 Craig Waltz
As everyone enjoyed the delicious Hawaiian food provided by Aloha Island Grille, the Kids races got underway allowing future Jay Race long course competitors to battle it out with each other for fun, bragging rights and finishers ribbons.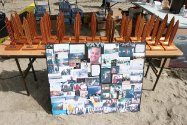 Jay Race awards
Immediately after the athletes received their awards, a huge raffle took place offering paddleboards, surfboards, wetsuits, and other amazing prizes, with all of the proceeds from the raffle and event entries going to the local Junior Lifeguard programs providing scholarships and equipment for the Junior Guards.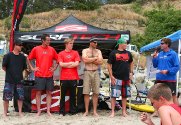 Top 5 awardees
Thanks to all of the sponsors, volunteers and participants who continue to make the Jay Race a huge success year after year.
For final results and more information about the 2009 Surftech Jay Moriarity Memorial Paddleboard Race presented by CLIF Bar, check out the event site at www.surftech.com
For event photos check out:
www.pictage.com
Related posts