June 21st, 2009 by evan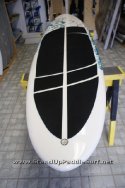 Jim Hayes of Tropical Blends gave me a personal tour of the shop and introduced me to their new line of boards. The Luana 10′9", designed by Jeff Bushman, was first up. Jim describes the Luana as ″ a good middle of the road board, a relatively quick paddler while still performing well on the waves." He's used the Luana on distance paddles from Hawaii Kai to Kaimana Beach (8.5 miles) catching waves at several of the breaks along the way. See what else Jim has to say about the Luana on the video clip provided.

(click thumbnail to launch video)
The Luana comes with a standard 2+1 fin set-up…center fin and two sides. Even though the board is almost 11′, the added sides help the board initiate turns in the surf while adding a little directional stability when paddling.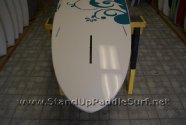 2+1 Fin set-up
The Luana is equipped with two small leash plugs on either side of center on the deck. Velcro straps can be run through these plugs to attach your paddle to the board for use as a handle.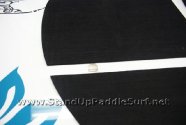 Leash/velcro strap plugs for paddle attachment
The Luana 10′9″ also has the typical Tropical Blends single concave with a double barrel but not as pronounced as some of the other 2009 boards. The board has a rounded pintail, a smooth forgiving rail and some vee in the tail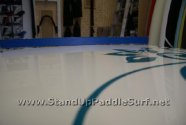 Double concave bottom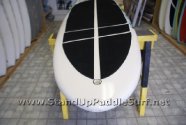 Rounded pintail
Related posts