April 10th, 2008 by evan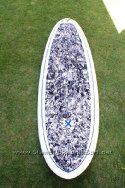 I got a chance to hang out with Joe Blair during his recent trip to Oahu's north shore. We surfed everyday and had a blast on this new 8′9″ x 30″ x 4.25″ stand up board. I was shocked that at 220 lbs I could stand on it comfortably. In fact, once I got used to the 8′9″ I couldn't go back to the 9′11″. It just felt too big. So the 9′11″ has been passed on to my buddy.
The amazing thing about this board is that after riding it for a while, I'm sure we can go smaller. I let Nate S. ride this board at Ala Moana Courts the other day and he was pretty stoked on it. I think Nate is 230 lbs. I even heard him give out one of those laughs that express how stunned he was by the way the board turned. Nate almost pulled off a 360 degree off the lip also. Too bad I didn't video that.
Check out this video with Joe talking about his new 8′9″.


(click thumbnail to launch video)
Joe Blair 8-9 Stand Up Paddle Board [5:27m]:
Download
Joe Blair 8-9 Stand Up Paddle Board [5:29m]:
Download
Related posts