April 17th, 2012 by evan
In early February, I met up with C4 Waterman Ambassador Greg Pavao at their headquarters in Honolulu where he showed me some of their new SUP boards for 2012. Here's a couple of videos with Greg explaining the features of their new stand up paddle board models. In the first video, Greg talks about the Mark Richards Pro Model, the SUBNine Micro-SUB and the SUBNine Forward-Vee Batwing SUP boards.

Part 1



(click thumbnail to launch video)
In this next video, Greg talks about the SUBNine Turbo Spud, the new production C4 SUB Vector 9′3″, the SUBNine Waterskate, the SUBNine Batwing and a couple of their SUP race boards, the C4 V1 and the C4 TGIF Pro.
Part 2



(click thumbnail to launch video)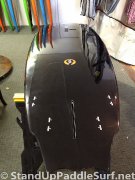 The SUBNine Forward-Vee Batwing bottom view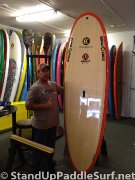 Greg with the SUBNine Turbo Spud
C4 iSUP Inflatable SUP boards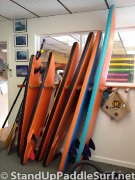 C4 iSURF Inflatable SUP surfing boards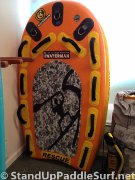 The C4 iSLED
Related posts