April 19th, 2010 by evan
Here's a look at the new SIC X14 race board. This is the flat water design that Mark Raaphorst designed for short course races like Battle of the Paddle. These boards are especially good for riders under 200 lbs but the X14 seems to be able to float me pretty well at 205 lbs.
Here's how Mark describes the board, straight from his site at www.paddlemaui.com.
"The X-Series was developed with the short course racing scene (e.g. BoP) in mind. In developing the X-14 and stock class X-12, we focussed on speed, sufficient stability and volume with some surf control and a light weight carbon composite construction. The X14 comes with fixed fin as well as steering equipped.The new X12 and X14 will be distributed world-wide by the fall of 2010."
I tested this board in 20 mph winds and found that the straight rocker and piercing nose are much better suited for flatter water conditions. The X14 tracked straight and the steering works like a charm as it does on all the SIC boards. This will be a board to keep an eye on at Battle of the Paddle Hawaii in June.
Here's a quick rundown on the design:
The nose is pretty interesting. It's different than my other boards. It kinda reminds me of the nose on a wave witch kayak I used to have. The nose pierces through chop with ease.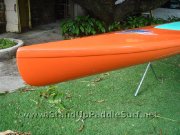 X14 displacement nose side view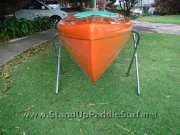 X14 displacement nose front view
Looks like a new logo for the X series.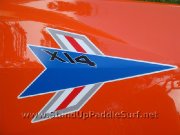 X14 new logo
The front section of the deck has an interesting dome design. This is especially nice when trying to keep your feet dry.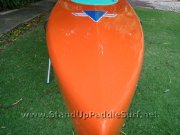 X14 front section dome deck
The foot pedal is the new adjustable version. I love this pedal.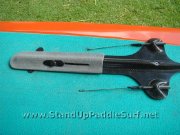 X14 adjustable carbon foot pedal
The tail is a little thicker than the FW-14. This helps to keep the tail from sinking into the swell.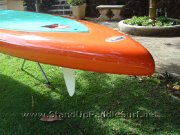 X14 tail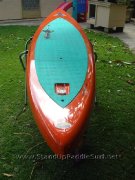 X14 top view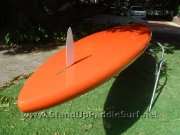 X14 bottom view
If you've ridden the X14, please let us know your feedback in the comments. I'll post more info as I get it.
Related posts