August 14th, 2009 by evan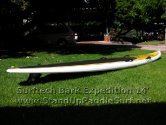 After a fairly long wait, I finally got my hands on the Surftech Bark Expedition 14′ Race/Cruiser SUP. At first glance, I started to question how it would perform since it was pretty different from anything else I've seen or ridden so far. Most of the planing hull race boards I've seen have been over 5″ thick, boxy rails, sharp bottom rail edge, concaves on the bottom, thick nose, thick tail, etc. The Bark is quite different.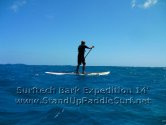 Randy Lui-Kwan riding the Surftech Bark Expedition 14′

The Surftech Bark Expedition is thinner than other 14′ers I've seen and thins out at the nose and tail.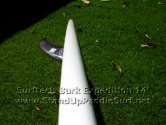 Thinned Out Tail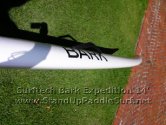 Thinned Out Nose

The outline is really slick looking. At first glance it reminds me of a big wave gun.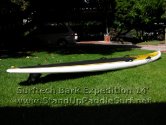 Full View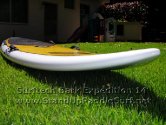 Lots of Nose Rocker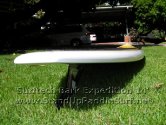 Rear View

When used as a cruiser, the Surftech Bark Expedition has a number of attachment points.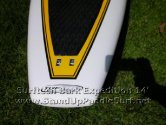 Dual Leash Plugs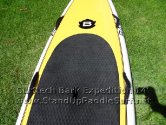 Lots of Handle Attachments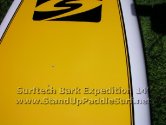 Attachment for Water Bottle Holder or GPS

One difference is the smooth rails and round bottom. I didn't find a sharp edge anywhere on the Surftech Bark Expedition.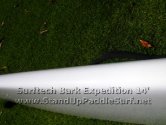 Smooth Rails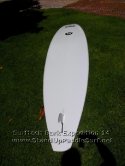 Round Bottom

Now for the test results. I tried it out in what seemed like perfect conditions. There was a 10 to 20 mph wind directly at my back for most of the 8.5 mile downwinder. Swell was running in the same direction and the wind and was knee to waist high. The Surftech Bark Expedition felt about the same weight as a Laird 12′1″. My guess would be around 31 lbs. The packing list showing the weight with the cardboard box and bubble wrap was 33 lbs.
This board has really good glide. It tends to keep its momentum once it catches a bump and stays right in the trough nicely. I liked the fact that I can stand in front of center without the board wanting to spin out. It's still controllable from the front. When I caught a few larger swells and was able to step toward the tail, the board surfed nicely as well.
The board didn't hit the high speed bursts like my hollow carbon ones, but the average speed was still pretty good. I averaged a 6 mph run and 7 mph on the good parts. It's weird because I didn't feel like I was moving that fast although that's what the GPS was saying. Coming upwind was a bit of a chore and that's when the weight didn't help.
Even though the Surftech Bark Expedition has a round bottom and rails, it's very stable. One thing I liked about the rails is that they are very forgiving when it gets hit by side swell.
I've had two sessions on this board so far and those were in really good conditions and I am still very pleased with this SUP. I want to test it in other conditions although I think this will be a good board to go tandem with my boys. The second session was just a fun leisurely paddle at Duane Desoto's Na Kama Kai Clinic. If you haven't heard or been to this and you have young kids, you should definitely try to make it to one. My kids and my friend's kids had a blast. I paddled the Bark tandem with a number of different kids and had a great time catching small waves and cruising. I was even able to paddle standing up while my friend's son, Braedon (8 years old) also stood up in front of me. My son was not as adventurous and decided to lie down.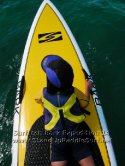 My son on the front of the Bark

Joe Bark and Surftech – Good job on this one.


(click thumbnail to launch video)
Related posts