November 17th, 2007 by edgardo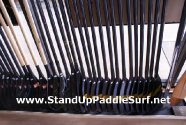 Jeff of Wet Feet takes us through their inventory of paddles from a variety manufacturers namely C4, Surftech, and Quick Blade. He also talks about the materials of each paddles and what they're good for.
Wet Feet offers a wide choice of paddles so there should be something that fits your paddle preferences from them.
Watch Jeff explain the different designs and shapes from the T-grip, to the shaft, to the blade.
Continue reading 'Stand Up Paddles at Wet Feet Hawaii – Video Part 1′