December 21st, 2007 by edgardo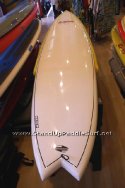 Clark at Wet Feet gives us a few details on this Ben Aipa stand up paddle surfboard.
11′ 0″ (the Sting-up Ben calls it) is 28 1/16″ wide x 4 5/8″ thick. It's actually a gun-like shape, with the narrow stinger swallow tail and a kicked up pin nose. It has 5 fin boxes (FCS) so you can run any fin set up you like. On days with larger surf you could run a big single fin for stability, or to loosen it up on smaller days try it as a Quad. This board means business, and initial reports indicate this board likes a faster wave. It's not your casual cruiser!
Related posts