December 19th, 2007 by edgardo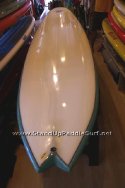 Here's a preview of the Da Stand Up Kine Custom Stand Up Paddle Surfboard by Brian Caldwell. The Caldwell can be made to any size according to Jeff of Wet Feet. Typical dimensions are 9′-4″ x 27″ x 3.75″, 9′-8″ x 28″ x 3.75″, 10′-0″ x 28.5″ x 3.75″, 10′-8 x 29 x 4″.
These are high performance customs for intermediate to professional surfers.
Related posts