December 18th, 2007 by edgardo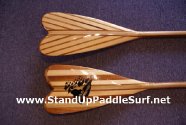 I think this is Evan's first wood paddle, the Leleo Kinimaka dove tail stand up paddle. As you may have seen on previous posts, wood paddles give that softer, gentler feel, and not to mention, they are just absolutely gorgeous. I'd say true works of art.
Check out the video as Evan shows us his new stand up paddle.


(click thumbnail to launch video)
Evan Leong: My new Leleo Kinimaka paddle. Check out the nice wood, in lay pieces. The thing I like about this paddle is this handle, it's just really nice. If you look at it – I don't know if you can see it but it just, it really fits in your hands. It's really comfortable right here in your hand like that. I'm not sure what kind of wood it's actually made out of but if you look at it, it's just absolutely gorgeous paddle. And the inlays that are here on the blade. If you look at that and put a little inlay of the big island and then there's something else — different kind of inlay right there. There's a slight dihedral if you look, you can see. And there's little bit of convex on the top part of it and this dove tail thing or whatever they call it. Anyway, it's a super nice paddle and I got it at Tropical Blends.
Leleo Kinimaka (Kinimaka Ku Iluna) Dove Tail Stand Up Paddle [1:11m]:
Download
Leleo Kinimaka (Kinimaka Ku Iluna) Dove Tail Stand Up Paddle [1:12m]:
Download
Related posts