May 14th, 2008 by evan
This is a video featuring Olympic Skier Julia Mancuso and her stand up paddling.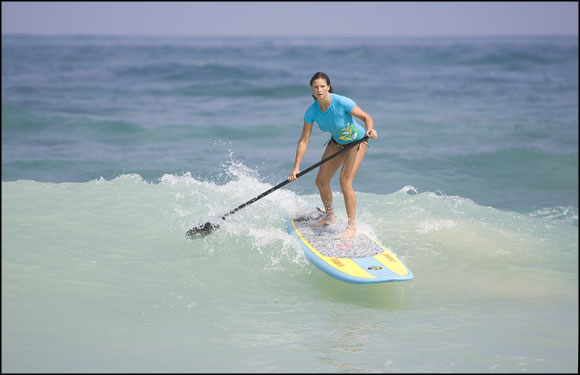 (click thumbnail to launch video)
Here's the original article from ESPN Magazine:
http://sports.espn.go.com/espnmag/story?id=3382269
SWEAT SPOT: JULIA MANCUSO
How does one of the world's best skiers stay in shape? By surfing, of course.
by Max Klinger

During the winter, World Cup skier Julia Mancuso markets in unhinged downhill careening. In her off-season, she settles onto a more level plane. The 24-year-old speed demon, who spends her summers on the Hawaiian island of Maui, is a disciple of stand-up paddling, in which she propels herself through the ocean gondolier-style on a specially made 10-foot surfboard. As luck would have it, the recreation also gives her a killer ski-specific workout.

"It's hard to recreate the ever-changing ground that comes at you as you ski," she says. "But on a stand-up board you're constantly tipping and balancing and having to make small, quick adjustments. It improves your reaction time and balance."

After healing from arthro-scopic hip surgery two years ago, Mancuso headed straight to a surfboard. "It was the best way to synchronize all those small muscles in my feet, ankles and legs that I hadn't used in a while." The rehabbing regimen paid off; later that year Mancuso won her first World Cup event. As if spending every day at the beach weren't reward enough.
Related posts