July 17th, 2008 by evan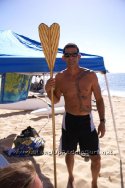 This is from a while back. This year's Makahiki in Makaha (say that tongue twister 10 times fast) was pretty fun. The waves were small although small is better than none at all. I heard it was flat in the morning and then some waves came in just in time for the contest. The conditions were really nice. As you can see from everyone under pop up tents, the sun was blazing.
Driving out to Makaha is a long drive to us islanders. Anything over 15 minutes seems unbearable and the hour drive to Makaha gave me the ability to kill 2 birds with one stone. I wanted to see all the new stuff and the guys ripping in the waves and I needed to go and meet Leleo Kinimaka to find out on his paddles.
Since it was on a Sunday, my wife took my oldest son to church and I took my younger one to the beach. I bribed him by telling him I'd buy him a shave ice and he became very agreeable. There was a good amount of riders in the stand up contest and one stuck out to me. I saw Mel Pu'u who is an icon in Makaha and a lifeguard. Mel must be at least 240 lbs and he's big. He was on a 10′ pink board and bright pink paddle. The board he was on looked like a skateboard compared to his size and he was ripping it up.
I left before the canoe surfing competition because my son wanted to go and he's pretty convincing.
Related posts