December 21st, 2008 by evan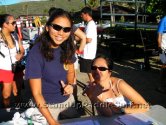 Coast Guard race sign in table and volunteers
The Coast Guard race had over 100+ entrants, one-man canoes, 6-man canoes, stand up paddlers and a few lie down paddleboarders. We started off at the Hawaii Kai boat ramp area in Maunalua Bay and I think it was a pretty open route. Once we actually ended up getting started, most of us just went straight across the bay towards Diamond Head. I was pretty surprised because Jeff Chang normally ditches me and blows me away. I think he's normally at least 10, 15 or maybe even 20 minutes in front of me on comparable size boards.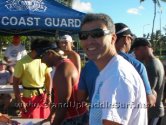 Jeff Chang at the sign in table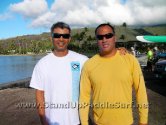 Harris Chang on the right and Jeff Chang on the left

But on this one, he was on a 12'6" Infinity, I was on the S.I.C. 15' F-15 and I was using the new C4 XPR paddle, which I thought worked really well and I kept up with him, actually I was beating him up until about Diamond Head and then he took off and was about maybe 50 yards in front of me.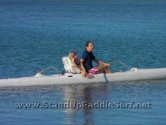 An interesting tandem on a one man canoe: a mother and child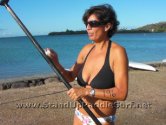 Just waxing her handle

And then when we were coming in, there was an option for this race, either you could go all the way from Hawaii Kai to Magic Island which was 10 – 11 miles or so or you could come in at Kaimana Beach which was only about 8 ½ -9 miles. When I was coming right past Tongs and coming in right there on the inside part just before I hit where the Elks Club and Outrigger Canoe Club was, I was looking in front of me to see if people were coming in or not because the other guys were on the way outside, they took an outside line.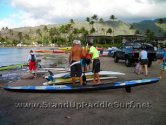 The race guys at the Maunalua Bay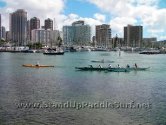 Here is the six-man canoe team coming in at Magic Island

I was watching this guy, Jay, who was in front of me, and he was on a S.I.C. F-16, while I was thinking, "ok, let's watch where people go", if they go right to Kaimana, I'm going to Kaimana. If they go left and head toward Magic Island, I'll keep going. But I was already tired. I saw Jeff cut left and head out straight toward Ala Moana and then I saw Jay cut right and head toward Kaimana. Since I was pretty tired already, I decided to go to Kaimana.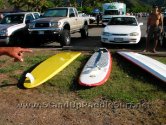 Some board display: on the left is a Nash, the middle is a C4 Waterman, and a C4 Vortice XP on the right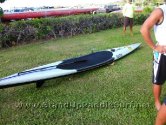 A cool custom Joe Bark lie down paddle board

Turns out I think maybe Jay and I were only the guys who came in to Kaimana. And Jeff Chang ended up placing 3rd and I think no. 4 was 7 mins. behind him.
Now it makes me wonder, what if I have gone the whole way, I wonder how long it will take me because I was tired. But the conditions for the day were light winds, caught a couple of runners but not too many, the swell was small, it was pretty much an endurance paddle for most of it, and there wasn't a lot of bumps to catch.
Bento lunches were served at the food tent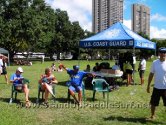 A good lunch and nice get together after a fun day with the Coast Guards

But it was fun and actually the lunch was really good. They have this small bento lunches and those were pretty good and it just turned out to be a fun day. I look forward to doing it again next year.
Here's the video clip of the guys gearing up for the Coast Guard race. I was able to catch up with Sam Pae, who's in an all purple family shirt get up, Jeff Chang, Alika and the other guys at the sign up table. Over at the ocean side, got a glimpse of Jeff's 12'6" Infinity that he used for Battle of the Paddle. See more of the guys with their boards and paddles as they come in for the race.


(click thumbnail to launch video)

This 2nd part video takes me and Sam Pae to the stand up guys for the briefing. One of the coast guards explains to us the race course. Tad Tucker, who is the race organizer, is also here to welcome the group. We got a pretty comprehensive briefing here.


(click thumbnail to launch video)

Part 3 of this Coast Guard race video got me checking in with one of the coast guards assigned at the Kaimana, after taking this route. See the other stand up guys coming in to finish the race and head to the food tent for lunch.


(click thumbnail to launch video)
Related posts