December 23rd, 2008 by evan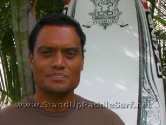 Ekolu Kalama with his Starboard 9'
I got a chance to interview Ekolu Kalama, who's a team rider for Starboard SUP. He was here on Oahu, Hawaii for a few days getting ready to film the movie pilot for his SUP adventure. It must be really cool to get paid to SUP around the world.

Ekolu started his career as a stand up paddler during a weekend trip to Maui. He went out to Ho'okipa with his cousin Dave Kalama, and eventually, surfed with Laird Hamilton at Teahupoo and Jaws.
Ekolu reflects on how Laird has helped him through his learning curve and took him to Jaws in 30 foot face waves. To top that off, Laird (who he had just met through Dave) gave him a special gift for his trip home.
Ekolu is not your typical SUP surfer (if there is one). He was a firefighter on Molokai where he grew up and after high school he attended Pepperdine University in Malibu, California. He played volleyball there and that's where he met his best friend who he's filming the SUP movie with.
I'm trying to get some pictures from him of his SUP session at Teahupoo. What really impressed me was that his wife paddled into the break right behind him and surfed those waves also. I met her here on Oahu and she's really nice also. It's funny that she's got more guts and skills than me.
Watch this clip to learn more of Ekolu Kalama's SUP stand up paddle learning experiences.


(click thumbnail to launch video)
Related posts