January 7th, 2009 by clarise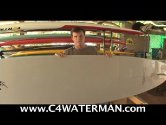 Here's another video of Dave Parmenter, this time with the new C4 Waterman 11′ Da Mooch SUP board. This 11′ has a lovely, very relaxed, neutral long board rocker. It's something you can stand on the nose all day on and still let you make big swooping left or right turns. It's a great San Onofre or Waikiki board. It's unreal for long distance paddling. You can paddle miles on it and still surf.

This is a good cross country board. It's set-up with a fairly flat bottom going into a rolled v and a panel v that's clustered and accentuated right near the fin. You can ride it as a 2 x 1 or single fin depending on your taste.
Now if you don't want to hang ten and that's not your thing, and let's just say you're paddling flat water or inland on the lake, this is a great all-around flat water fitness board. It covers ground and handles chops whether it's on your beam, at your tail, at the nose, it's really flexible. It's a very stable board. It can go down rivers, you can put 2 kids on it. It's just a fantastic all-around board.
Check out the video. Visit www.c4waterman.com for more info about this board.


(click thumbnail to launch video)
Related posts