January 8th, 2009 by davi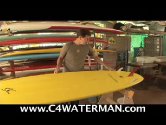 Another video of Dave Parmenter, today with the new C4 Sling Blade 9′9″ stand up surf board. It has a very refined long board shape, a fairly neutral long board rocker, flat bottom, crisp edges, pulled in and foiled out tail. Something that your foot will build the control very easily.

The bottom is fairly flat with soft edges going into very crisp hard edges by the fin unit. A little bit of rolled v in front of the fins for easy control going into a crisper panel v off the tail.
This board is really great for intermediate to advance surfers like 185 lbs. and under. San Onofre, Waikiki, just about anywhere you want to surf. This board is a real winner. Very fast, very nimble. It's a great board to ride.
Check out the video. Visit www.c4waterman.com for more info about this board.


(click thumbnail to launch video)
Related posts