January 6th, 2009 by clarise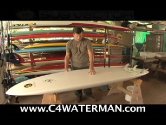 By Clarise:
Here's a video of Dave Parmenter presenting the new C4 Waterman 9′3″ Sub Vector. The board was designed to be a no-fail board for intermediate surfers and above, starting around with a max range of around 240-250 lbs. It has a lot of very potent short board features: flat bottom, really hard crisp edges that goes into a double concave, and convertibility with five fin boxes.

The outline is designed so that you can paddle as hard as you want on one side of the board and it won't yaw. It's not like a lot of the boards in the market where you paddle one side and it pulls. This is a very straight paddling board. It's got a very fast fish-type rocker. The deck is concave from rail to rail. Meaning, the thickest part of the board when you stand on it is out on the rails that enhances its stability.
The sunken deck also reduces your center of gravity. The tail has two recessed foot wells. It also lowers your back foot center of gravity and gives you more grip in high-g turns. When you say high-g turns on a board like this, it's hard to believe. But when you get on this thing and you have gotten to that intermediate ability, you're gonna feel g-forces. This thing is very fast board. It'll probably feel at the start like letting you combine a lot of your short board surfing into your stand up surfing.
Check out the video and hear more from Dave. Visit www.c4waterman.com for more info about this board.


(click thumbnail to launch video)
Related posts